All bikes are different: sizing, geometry, wide bars, saddle height, custom specs et cetera. Duly, we make our bags to measure!
Abimbola is a custom-made lightweight folding bag designed for stealth transporting of any bike on high-speed trains and long-distance buses at no extra charge, or simply in the back of a car.
Both wheels should be taken off before placing the bike in the bag, and the whole packing and unpacking process takes 3-5 minutes.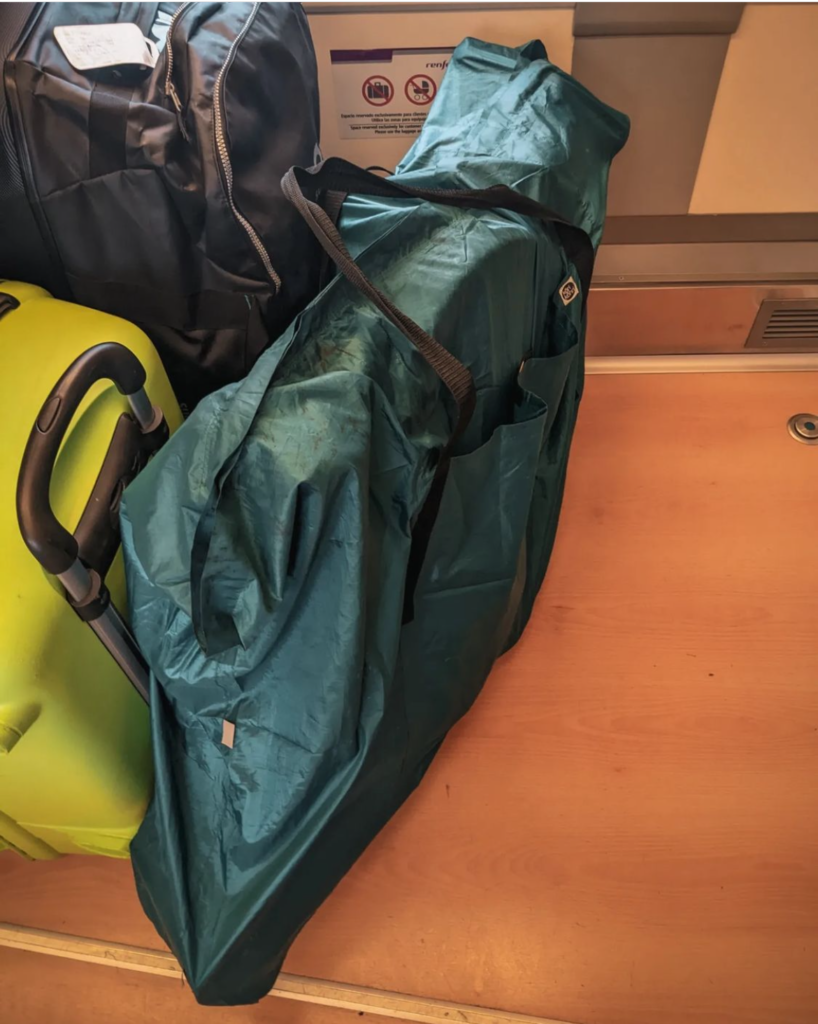 Abimbola bags are made from weatherproof and ripstop fabrics with discrete hi-viz elements. One front pocket is big enough for your helmet or other stuff that you want to offload while on board. Colors available are various, we don't keep fixed stock and change them rather often. Please let us know your preferences!
Important:
Our bags are not suited for air travel since there is no padding – we give no guarantee for that even if there were clients who have successfully used this bag in the airplane cargo hold.
Let us know if you need any further information.
Currently, we offer Abimbola bags in 2 versions: Supercompact and Compact.
The difference between the two versions is the thickness of the fabric. For both types (supercompact and compact) we use Cordura – a technical fabric (resistant to heavy use and weather conditions) commonly used in the sports and outdoor industries.
The supercompact version is designed for a more "lightweight" travel. This bag is usually around 650 gr and when folded is only around 22*13*13 (may vary obviously since it is custom-made).
Abimbola Supercompact
---
We recommend this version to ultra-cyclists and true adventurers* traveling with the bare minimum when every gram and extra volume counts. Folded bike carry bags fit in a jersey pocket (if you don't wear XS jersey while riding XL bicycle) or bottle cage and then are used after the ride to pack the bike to return home with some motored transport. Or before the ride to reach the starting point! Or both!
Abimbola Compact
---
Generally advised for CX, gravel, and MTB due to their higher weight/size (more durable and a bit heavier fabric: 800-1000 gr).
When folded must be transported in some kind of bag/backpack (or can be strapped to the bike or bikepacking rig). 
To make your bag in the right size we need to know the real measurements of the bike (if you plan to use it with several bicycles we need the measurements of the largest one!), taken as described: 
Take off the wheels and put the bicycle on the floor.
Vertical measurements: should start from the topmost point (saddle or bars, most likely saddle) down to the bottom (the big chainring should touch the floor as the lowest point of the frame).
Horizontal measurements: start from the bar end of bars rotated 90 degrees to the extreme part of the rear dropout.
Ensure you take the horizontal projection and not the diagonals connecting the two points.
It takes us around 1-4 days to produce the bag from the receiving order and the measurements we need. Once it's ready, we ship it with 48h EU Courier Service.
---
N.B. Kindly ensure that you record the exact measurements without adding or omitting any centimeters. This will help us tailor a travel bag that correctly fits your bicycle.